Can You Still Buy Life Insurance During the COVID-19 Crisis?
If the novel coronavirus crisis has left you wondering if you should buy life insurance or increase your coverage, you're not alone. Consumer demand for life insurance has surged amid the pandemic.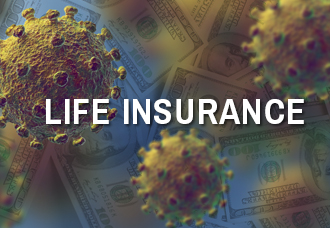 Increased demand and several other forces have combined to make the application and approval process somewhat challenging. Even so, there are ways to obtain coverage.
"We've seen an increase in requests for life insurance, specifically for term insurance, because people understand the importance of protecting their families and loved ones – now more than ever," said Brian Hickey, Vice President of Life Insurance MarketPlace. "But it's no different than trying to buy car insurance after you've had an accident."
Buying While Sick with COVID-19
If you try to buy a life insurance policy after being diagnosed with the coronavirus disease (COVID-19), expect the insurance company to postpone any decision for at least 30 days, or until you've recovered completely.
New Applicants Can Expect Delays
But what about if don't have COVID-19 and want to obtain life insurance?
Insurance experts suggest that you act quickly to apply, because some insurance carriers could stop issuing policies until a vaccine is found, add exclusionary riders to avoid paying out on coronavirus deaths, or raise premiums and tighten application restrictions more than they already have.
So far, insurance companies have responded to the COVID-19 crisis in a wide range of ways, with some declining policy applications and others postponing decisions.
Many carriers of whole life insurance, which covers the insured for their lifetime, have postponed decisions on coverage above a specific face amount – the amount paid upon death, Hickey said. Typically that amount of late has been anything above $40,000.
Decisions on term life insurance, which provides coverage for a set period of time, also are being postponed. But the delayed decisions aren't related to the face amount. Because term policies are based on your age and health when you apply for the policy, carriers – regardless of face amounts – are requiring that applicants provide "attending physician statements" instead of undergoing the usual underwriting process. In normal times, underwriting involves a paramedical examiner visiting your home to assess your health. But with social distancing measures preventing in-person paramed examinations, a backlog of attending physician statements is preventing some policies from even being considered, let alone issued.
Policies Are Still Being Issued
Don't let the possibilities of postponement or denial deter you from applying, Hickey said. If you are under age 40 with no pre-existing health conditions, you may be able to receive a policy at the best rates available. Older applicants with health issues may still be able to get policies issued, but they'll pay higher premiums.
Everyone's situation is different, so it's important to work with a Licensed Insurance Agent who can help you find a solution. Whether you're buying life insurance for your parents, considering it for your grandchildren or for yourself, there are several solutions in this time of tighter restrictions and increased demand.
Agents Can Help You Find Solutions
"There are plans with some carriers that have smaller face amounts that can bridge the gap until you can get what you need," Hickey said.
You can apply for a guaranteed-issue policy and a smaller face amount, or death benefit, now and follow up later by applying for a larger policy when carriers ease underwriting.
"Recognizing the need for life insurance is a good step at any time," he said. "While buying a policy before the coronavirus crisis might have been easier, you can still get coverage now to get you through until carriers start to loosen requirements."
The Licensed Insurance Agents at Life Insurance MarketPlace can help you assess your situation and find a solution that works for you now, and they can contact you again in the future when application restrictions loosen, Hickey said. Plus, because Life Insurance MarketPlace agents work by phone, you won't have to worry about contact during the COVID-19 pandemic.
Call 1.877.888.9985 to speak with a Licensed Insurance Agent or get a quote here.